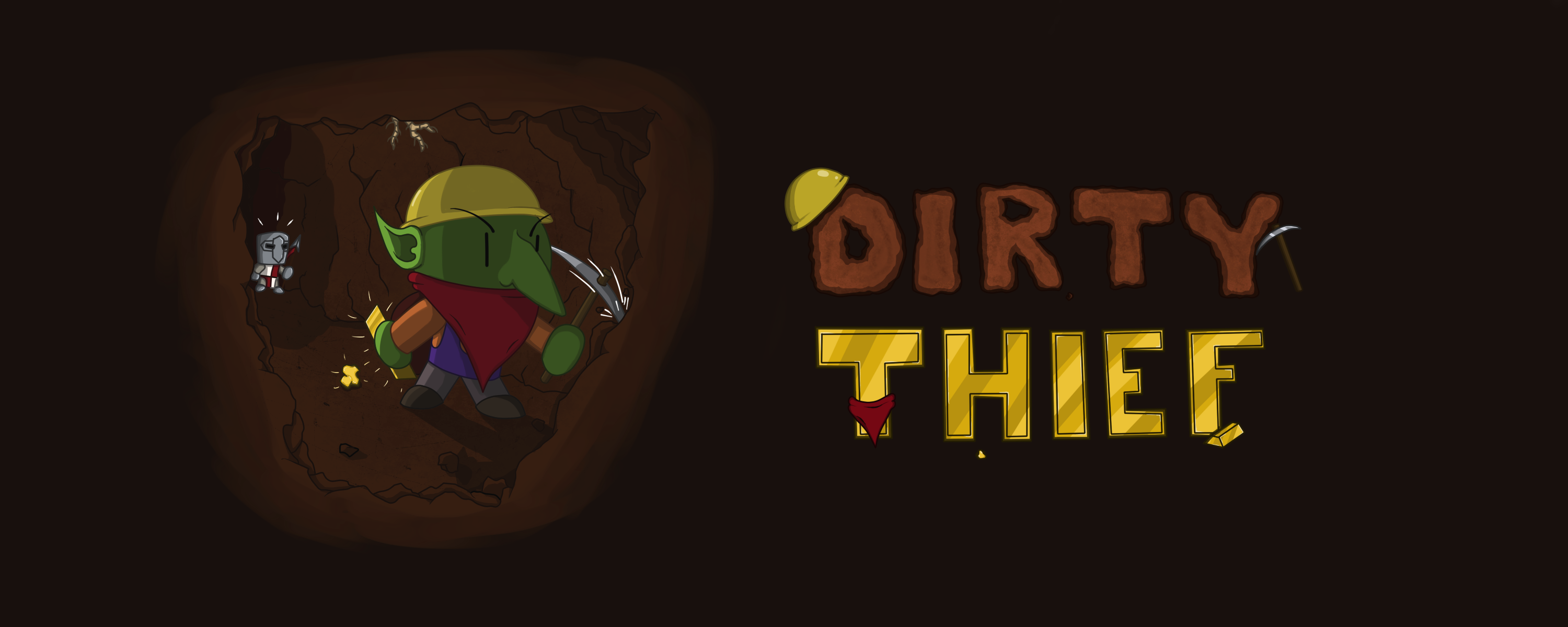 Dirty Thief (EARLY BUILD)
A downloadable game for Windows, macOS, and Linux
In Dirty Thief you play as a Goblin from a goblin village which had their gold stolen by the local Human Kingdom. You'll have to dig underground through levels, making your own way to steal the gold back from banks and such while avoiding enemies and traps.
OBS: Since this is an early build for a game currently in development, some proper feedback for player interaction isn't there. When you enter the game you'll find yourself in a small room with a chalkboard which can be used for selecting the levels.
Features:
Unique player experience: dig underground making your own way to avoid obstacles, collect items and finish the level.
Exploration focused: explore levels for greater rewards.
Unconventional protagonist: a goblin thief with a noble mission.
Not so easy: difficulty inspired by classics: no tutorial; you can fight the enemies, but they're stronger than you(you're a thief, avoiding problems is the way to go!); you must find the way through the levels.
Gamepad support: you can play with a keyboard or gamepad.
For keyboard controls, the arrow keys are used for movement, Z, X and C for actions, R to reset the level and ESC for the pause menu.
The game will be available for Windows, Mac and Linux with two language options: american english and brazillian portuguese.
The available download is just an early demo and it's subject to heavy change.
---
Story: In a world of castles and fantasy, the Human Kingdom stole the goblin village's gold solely because the humans don't seem to like the goblins very much despite them being peaceful. Revolted by this, a brave Goblin goes out on a mission to steal the gold back as the Human Kingdom is strong and they could never fight back, but the Goblin needed a good plan as to how to steal the gold from the humans' guarded and/or fortified cities. After having a sandwich stolen by a mole while trying to think of some plan, it struck him: dig underground to get beneath the banks in which the humans had stored the stolen gold. And so the Goblin will have to find a way through the dangerous and unknown underground to get the gold back!
---
This game was originally made for a college project and after some positive feedback we decided to continue developing it. The original idea for the game was made using Orteil's Game Idea Generator which generated "a strategy game in which you extract ores from cities for glory". We decided to make the "strategy" part more meta and so during the game you have to make a strategy to avoid obstacles and such.
Dirty Thief has been in development(#madewithunity) for over a year now and we plan on adding a lot more features.
Contact: for any questions or bug reports please contact us at dirtythiefdev@gmail.com or @dirtythiefdev or http://dirtythiefgame.tumblr.com/
Download
Click download now to get access to the following files:
Download for Windows v1.0.0.1
40 MB
Download for Mac v1.0.0.1
43 MB
Download for Linux v1.0.0.1
43 MB